Custom discounts & vouchers
SIGNONDAY brings diversity and transparency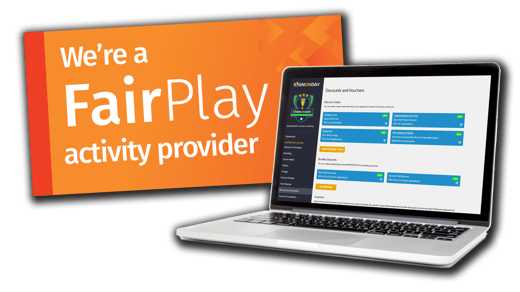 SIGN

ON

DAY
also offers an exclusive voucher redemption system eg QLD Fair Play, that can be easily catered for within our advanced product generator. Comprehensive trackable data via our Dashboard provides insights to participant inquiries, product creation and transactional reporting.
SIGN

ON

DAY
gives activity providers a safe and secure management solution that can be integrated and saves hours of administration.
Once all discounts have been redeemed, participants have the flexibility to pay through the many secure Merchant gateways which include Credit/Debit cards, Direct Debit, and Payment Plan Digital Wallets. All products can also be purchased as a Gift and sent with an e-gift message.


Sign-on made simple
Our range of discount and voucher options
Activity providers have 24/7 Dashboard access to create and edit Products to sell.
Products can be Registrations, Player Merchandise or Ticket sales
Family Bundling can be used for multiple children to receive tiered discounts.
Unique Discount Codes
Unique Discount Codes can also be created for transacting participants to redeem. Activity providers can set % or $ value discounts and create unique 'discount names' which are promoted and shared through SIGNONDAY marketing tools.
Government Vouchers
Government Vouchers can be activated so participants can upload and redeem PDF vouchers. The SIGNONDAY Shopping cart system scans the PDF Voucher & validates the unique voucher code, name and expiry date. Signed PDF vouchers are then attached & easily accessed by the activity provider through the Voucher Reporting system.